Workshop for the Laity in Birmingham, Alabama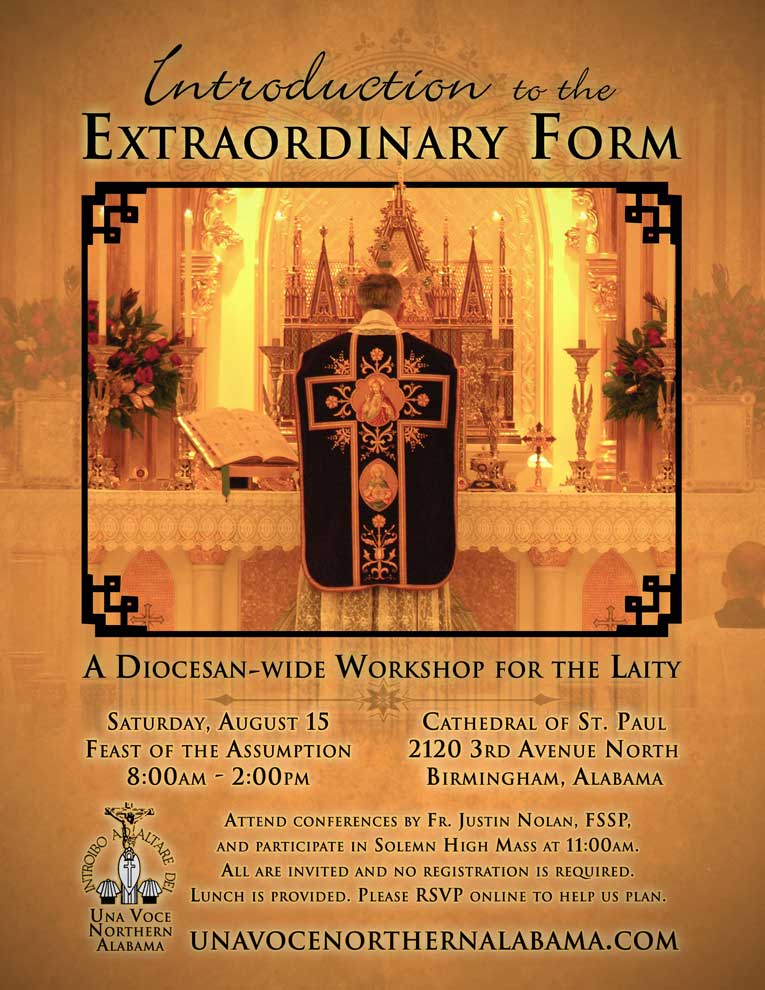 On behalf of Una Voce Northern Alabama, I am pleased to announce our first ever diocesan-wide workshop for the laity: "Introduction to the Extraordinary Form." This free, daylong workshop will take place on Saturday, August 15–the Feast of the Assumption of Our Lady, at the Cathedral of St. Paul in downtown Birmingham. Fr. Justin Nolan, FSSP, will offer conferences on the theology and ritual of the Ancient Form of the Roman Rite of the Mass. The highlight of the day will be Solemn High Mass in the Cathedral. Lunch will be provided directly following the Mass.
During the conferences, Fr. Nolan will answer many frequently asked questions regarding the basics of the Traditional Latin Mass, such as:
-Why does the priest not face the people?
-Why is the Mass in Latin?
-How can I participate?
-What is Summorum Pontificum?
-What are Pope Benedict's thoughts on the Extraordinary Form?
This event is free and open to the public–all are invited and no registration is required. However, we ask that you please RSVP online at www.unavocenorthernalabama.com to help us plan for the event. A nursery will be available if you wish to make use of it.
We have provided below a tentative schedule for the event and a flyer with all of the pertinent information. Please help us spread the word about this workshop by telling those who may be interested. Please contact us if you have any questions. We look forward to seeing you on August 15!
Ad Jesum per Mariam,
David Biddle, President
Una Voce Northern Alabama