Auriesville Pilgrimage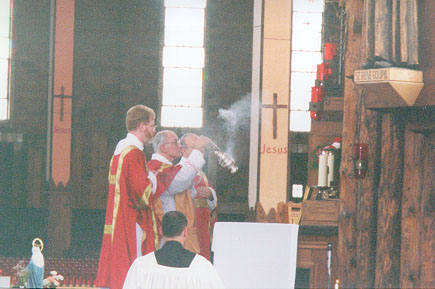 Auriesville Pilgrimage, 1998
The third annual Pilgrimage of Restoration to the Martyrs Shrine in Auriesville, once again proved to be an inspirational and invigorating event for the hundreds of Catholics who participated.To gain an answer to the question as to why so many people would want to drive for hours to walk 6 miles on roads bordering the Mohawk River in New York State, one needs to look primarily at two factors: First, the witness of the North American Martyrs gives evidence of such sacrificial living that true Catholics are easily moved to follow in their footsteps.. And secondly, the effort to restore the Tridentine Latin Mass evokes the very best from those who are working and praying for it. Those two elements together that bring out hundreds of people, young and old to this annual event.The pilgrimage is a simple affair that involves not much more than walking, praying, confessing sins, singing, attending Mass, and meeting friends from all over North America. But what it not so simple to understand it the grace that unites and vivifies those who take part in the final Mass of the day.As in years past, Fr. Edmund Castronovo led prayers at the Shrine of Blessed Kateri Tekakwitha and invoking the Holy Martyrs to be present on the way, he led the large group out to the road. By this time, in the chill and mist of the early morning, the various pilgrimage groups had formed, gathering beneath their colorful and distinctive banners. This year the pilgrimage was nicely represented by several Latin Mass groups and Una Voce chapters: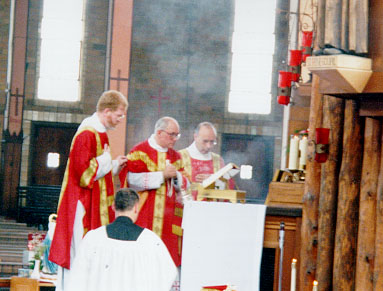 Out in front was Fr. Castronovo and some young boys from the Fraternity of St. Peter's St. Gregory's Academy who had the honor of carrying a platform with a statue of Our Lady of Fatima. Back at school, these boys were given an option of making the pilgrimage or attending a cultural fair in Scranton — they chose the penitential walk. Seeing devotion like this from such young boys speaks highly both of the work of St. Gregory's and also of the character of these boys themselves. This would not be the last inspiring moment of the day for the pilgrims to witness.
Behind Fr. Castronovo's group were the flags and banners of Una Voce Buffalo, led by Al and Bonnie Huntz. About 50 people from Buffalo travelled on bus to the Shrine and a large number of these were young boys.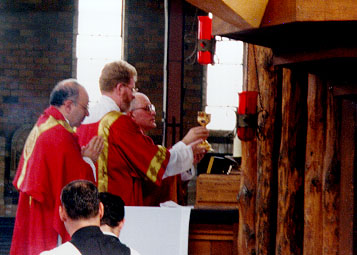 The Huntz's offered these reflections after the walk:
"The pilgrimage was wonderful. We started out at 9:30 am, (From Buffalo we rented a bus and started out at 5am, it's a four hour drive). The walk starts at Fonda at the Shrine of Kateri T. and ends at the Shrine of the North American Martyrs at Auriesville. Its a seven mile walk and gets hard at the end because its all up hill. We had 10 children with us ranging from 16 to 9. The last mile without anyone telling them anything they took off their shoes and socks and walked barefoot. The Mass was a solemn high with Fr. Castronova the main celebrant and two other diocesan priests as deacon and subdeacon. Fr. Fulerton of the Society of St. John was the master of ceremonies and the Society of St. John sang (they were heavenly). It was good to see so many young traditional Catholics there and many old friends. After Mass there was time to walk around the grounds which is truly holy ground since the Jesuits were martyred there. Then it was back on the bus and a four drive back to Buffalo. Spiritually it was a boost. Along the walk we prayed and sang. On the bus we said a rosary to Auriesville, and prayers of thanksgiving on the way home. Everyone in our group was lifted up spiritually and are talking about next year. The father of five of the children was there with us and next year he intends to bring all of his children (9) and his wife. The other young families in our parish plan on going also. Fr. Castronova deserves a lot of thanks for starting this pilgrimage, we really need it in this country."
Following Buffalo, the Rochester group came next and we also had a nice group of young families with us. One young man carred a simple wooden cross the entire 6 miles without setting it down for a break. My mother (in her late 70s) made it at least halfway. She then caught a ride to the end and took some photos of the pilgrims. Some of those photos are displayed on this pages.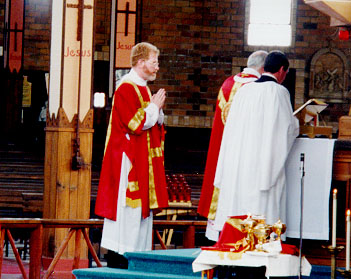 A few of the penitential acts are mentioned as a way of describing what happened but it is good to remember that the purpose of the walk is not an endurance contest or an athletic event. For some pilgrims, just travelling by bus for 4 hours was quite a lot of penance. It's a temptation to think that the person who walked farthest or carried the heaviest banner is necessarily the one who did the most for the pilgrimage. Our penances shouldn't be put on display anyway, but the pilgrimage was there for people to express their devotions in whatever reasonable way they wanted to.
After Una Voce Rochester, the group from St. Clement's parish in Ottawa walked and sang their way to the Shrine. This was one of the most impressive groups I've seen on the pilgrimage. There were about 150 pilgrims from St. Clement's, one of the first and still today, only traditional Latin Mass parishes in North America. At the beginning of the group, a young man acted as cantor and sang beautifully along the walk. The St. Clement's group somehow managed to sing continually, in a blended and harmonious sound. They included hymns in English, Latin and French language. They sang the litany of Saints in Latin chant and it was impressive. Just about the entire Catholic school at the parish attended also and it was great to see so many young children there.
Behind St. Clement's was the St. Benedict's Center in New Hampshire. These young nuns in full habit and their charges were an impressive sight.
After that came the Latin Mass Community from Pittsburgh, PA. Once again, there was a large representation from this growing Indult group. (Prayers are requested for Mr. Frank Kiel, president of Una Voce Pittsburgh, who is dying of cancer. Mr. Kiel made the beautiful banner for Pittsburgh's Holy Wisdom Latin Mass parish. It was one of the most beautiful banners on display this year and its excellence shows Mr. Kiel's true devotion to Our Lady.)
Interspersed among these Latin Mass and Una Voce groups were pilgrims from Boston, and Quebec and New Foundland and Virginia and many other places.
Here's a reflection from a young family who attended the pilgrimage:
"My husband and I took our 6 children (ages 8, 7, 5, 3, 2, and 4 months), to the pilgrimage. It was a 3 hour drive there, but it was well worth the ride!! I wasn't sure if the children would be able to make the 6 1/2 mile walk, and I was just going to stay back at the shrine with my 4 youngest children, but my husband and I decided to go ahead and see how far we all could get. We had our 3 and 2 year olds in strollers, and the baby in a sling that I had. The other children walked. After 3 miles, m4 yy 5 year old was beginning to get tired, and one of our strollers kept losing a wheel, so my 5 year old, 3 year old the baby and I bowed out. My other 2 made it, with their dad strolling the 2 year old (it turned out that he had fallen asleep, and got very scared upon waking, so my husband had to carry him the last mile, this including the Gauntlet. He felt that it was fitting, because of the horrible things that the martyrs had to endure there). The Shrine is absolutely beautiful. We had never been there before, so the whole experience was awe inspiring. I think that the most amazing place is the Ravine. It was there that St Rene Goupil was martyred, while St Issac Jogues watched. St Issac Jogues buried St Rene there in the Ravine, but no one knows where, so you are quite literally walking on sacred ground. The Ravine itself is breathtaking, and no one other than God could have created such a fitting place for St Rene to be buried. The whole pilgrimage was truly a humbling experience for me. I found myself on the verge of tears when I read the accounts of what those wonderful Martyrs went through for our Faith. It really made me wonder what I would have done in their situation. I pray that I can obtain even one iota of their courage and strength, and that one day I may have a love of the Faith as deep as theirs!
In the Heart of Jesus and Mary,
Heather Sarsfield
Sts. Charles Garnier, John Lalande, John de Brebeuf, Anthony Daniel, Noel Chabanel, Gabriel Lalemant, Rene Goupil, and Issac Jogues…Pray for Us!"
Fr. Svea of the Institute of Christ the King was there, walking and praying with the pilgrims. Frs. Carr and Buckley from the Fraternity of St. Peter made the walk. I believe that Fr. Buckley gave a retreat to pilgrims who stayed the previous nights. Fr. Buckley is perhaps the greatest master of the Spiritual Exercises of St. Ignatius in the English speaking world, if not the entire world. We pray that God will grant him many more years with us — it seems he has the energy of a 20 year-old at times. Fr. William Ashley of Opus Mariae was there also along with the Society of St. John.
The High Mass was the crowning glory of the day. Fr. Edmund Castronovo preached a rousing sermon on the witness of St. Noel Chabanel and his martyrdom. Holy Communion was reverently received by a group that appeared to number close to a thousand. The Society of St. John priests sang the chant perched in a strange choir loft above the high altar. As odd as that position might have seemed, their musical voices filled the spacious Shrine church with a very unified sound.
On the ride back to Rochester, we listened to Palestrina, De Lassus and Hassler on the cassette deck and we discussed a lot of topics ranging from 12th century liturgy to favorite radio talk show hosts.
It was a day that rejuvenated us and gave encouragement. If ever the battle seems lost, as it frequently does, we can think of the hundreds of pilgrims who traveled to Auriesville to express their love for the Tridentine Mass and to unite themselves with the sacrifice of the martyrs.
Such thoughts can banish any discouragement we might encounter. And when thinking about the hundreds of youth under the age of twenty who attended, we can laugh a little bit at those who claim that Catholicism must be made "more relevant" for today's young people and that they couldn't possibly want to make sacrifices or reparation because that is just "too negative" and too difficult for the younger generations to understand.
A glimpse of those young boys running barefoot up the last hill is enough to dispell that myth forever.